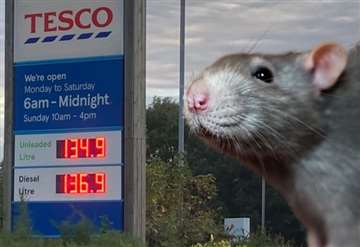 Rats have nibbled their way through a data cable at a petrol station meaning managers were unable to change their prices.
Hear from our reporter John Nurden who's been following the story at the Tesco garage on the Isle of Sheppey.
Also in today's podcast, the health secretary's refused to rule out making Covid booster jabs compulsory for restaurants, bars and on trains.
It's something that's come into force in France. Hear from a virologist on why we need an extra jab and one GP gives us his thoughts on potential restrictions.
In more health news, fresh support's being given to new mums and dads in Kent who're struggling with their mental health.
More access to health care professionals like midwives and GPs is being made available after research found nearly 3 in 5 have experienced depression and low mood. 
Jo Harrison from Maidstone has been telling her story.
As Cop26 continues in Glasgow, young people are meeting for a climate conference in Gravesend and say world leaders need to act more urgently.
We've been speaking to the chair of Gravesham youth council.
And, ahead of Remembrance Day tomorrow, we've been speaking to volunteers who've been selling poppies in Kent.